Quality. Craftsmanship. Guarantee.
Garretson Custom has proudly served the Indianapolis, Indiana area since 1986.
Today, Owner Jon Garretson and his 4 master carpenters continue to do quality work such as building additions, renovations, kitchens, bathrooms, window & door replacements, siding, screened-in porches, media centers, and many more custom woodworking projects for their ever-growing client base.
Jon is not a large volume builder. This allows him time to give maximum attention and service to your building needs. Jon prides himself on the fact that he does "hands-on work" for you. He begins by helping to design your project. Then, he generates a complete breakdown of costs for your project. Everything is listed from permit fees to the materials & labor needed to get the job done right. Even the building fee is included. There are no hidden costs. Jon and his master carpenters continue the "hands-on work" policy by doing the actual framework, interior trim, and a long list of jobs ensuring quality construction – all of which is closely supervised.
Location
Noblesville, Indiana
Phone:
(317) 442-1901
Email
Please use our Contact Form
Quality Work with a Hands-On Approach
"When Garretson Custom builds your project, you know exactly where and how your money is being spent."
Jon and his four master carpenters are ready to help you with your next project!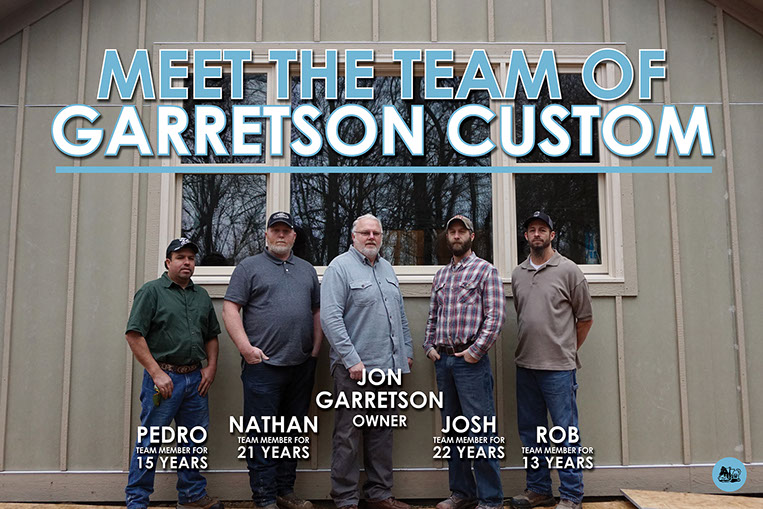 "Thanks, Jon, for doing such a great job on our basement renovations. You were on the job every day taking care of our project as if you were building your own home. You gave us HONEST ADVICE, QUALITY WORKMANSHIP, AND PROFESSIONAL EXPERTISE. We highly recommend you and have your mobile number for our next project."
"Garretson Custom was consulted early on to help us with ideas for our Kitchen Remodel. We had general thoughts about what we wanted to do, but Garretson Custom was able to help us firm up our plan with some out of the box thinking. They gave us a detailed quote that fit our budget. THERE WERE NO SURPRISES when it came time to make payment."